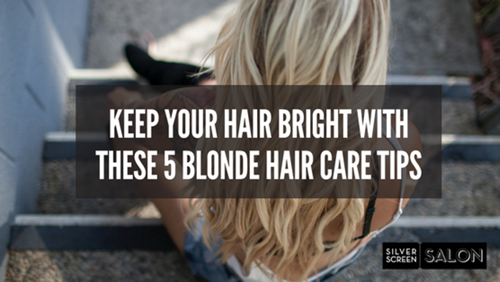 Let's be real: keeping your hair blonde and beautiful is a lot of work. It's all worth it, of course, for those buttery strands and the way they make you feel, but once you go blonde, you've got to also adjust your at-home hair care routine. The following are our best blonde hair care tips to keep your healthy and gorgeous.
Wash your hair less frequently

No, really. Start by waiting at least 2 days after coloring to wash your hair, and then depending on your hair and how oily it gets, stretch it as far as you can go between washes. Why? For one, even if you've installed a filter to soften water, the chemicals and minerals in our water can change and deaden blonde hair color. Lightening your hair also makes it drier, and if you wash too frequently or before your hair really needs it, you'll be stripping it of even more of its natural oils.
Use products specially formulated for blonde and color-treated hair

The gentler, the better — in order to both preserve your hair health and hair color. Seek out products that are sulfate-free and formulated for blondes, and avoid clarifying formulas that can further strip your hair. Lavender or purple shampoos and conditioners can help tone down brassiness and keep your strands bright.
Introduce a hair mask to your routine

Amp up the moisture and shine with an intensely moisturizing hair mask, applied 1-2 times a week.
Take it easy with the heat styling

Are you sensing a theme here? Gentleness is key to pampering blonde hair, and heat styling is hard on hair. Try air drying at least a couple of times a week, and use a heat-protectant spray before blow drying, straightening, or curling.
Protect your hair from sun and water

It's ironic that the sun, the source of natural highlights everywhere, can ruin color-treated blondes, but the sun's bleaching ability means it fades blonde color as well. Wear hats if you're going to be out in the sun (bonus, it's better for your skin and eyes too) and pick up products that act as "sunscreen" for your hair. Look for the words "UV filter."