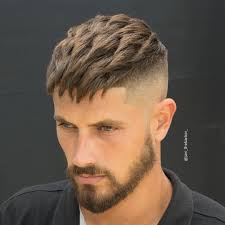 Textured mens cuts and styles have been a very popular trend in barbershops and salons
Scissor cut texture adds definition and volume that can be enhanced with styling.
For short hair, try a messy crop while textured spikes work for any length. The texture trends adds a modern twist to classic hairstyles too, adding separation and rustled finishes to combovers, crew cuts, and pompadours. Textured cuts are also a great way to beef up fine hair or remove bulk from thicker hair.
If you have a thick or thin head of hair, both can benefit from a short textured hairstyle. Texturing the hair usually involves a razor, a pair of thinning shears, or precision shear cutting techniques. Communicate with your barber about using one of these methods to create dimension in your hair. For thick and unruly hair, texturizing will help to minimize bulk, allowing your hair to gain shape more easily, rather than being weighed down. For thinning or fine hair, texturing helps create volume and movement, giving the appearance of a fuller head of hair. Finish the look by styling with a wax (for thicker hair), pomade (for finer hair), or texturing powder. Be sure to disperse the product evenly through the palms of your hand before working through the hair for even application. You will simultaneously look clean cut and stylish.
You'll want to make sure you visit a barber with fading/shear cutting skills to achieve this look. The nape and sideburns should be faded, going from skin up to a taper at the crown of the head. The top of the hair is then skillfully blended and textured for upward and forward movement.
Once you have the haircut, styling this look is a breeze. After a quick shampoo, blow-dry the hair forward with an easy tassel from your fingers to gain movement and desired height. Once the hair is dry, rub a styling wax that has a little shine through the palms of your hands and work the product through your hair using the same movement you did with the blow dryer. Styling should take no longer than 5 minutes with practice, and you're off to start your day without having to mess with your hair again throughout your day, it's that easy. Your barber should educate you on how to style your new custom tailored haircut.
This hairstyle looks fashionable and does require some styling skill. Also if you're not one too want to take the fade to the skin (scalp). There are alternative haircuts to achieve this style with still leaving length on the sides. Always communicate with your barber on what your preferences are to fully get which style you desire in the haircut.