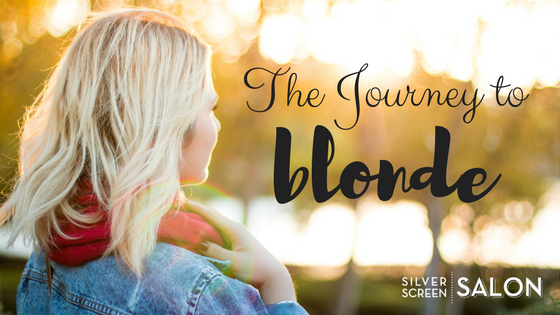 A Social Media and Kardashian Obsessed World
We have started to see our clients expecting the impossible. With platforms like Instagram and Snapchat stories, the process of an amazing hair color and cut seems to appear as though it can happen in a matter of hours or even minutes at times. At Silver Screen Salon we pride ourselves in giving our clients the most amazing hair color and cuts but beg of them to trust the process.
Trust The Process


The process of giving you the best look and the most healthy hair style means that you really can't go from a dark brunette to platinum blonde over night (no matter how quickly Kylie Kardashian may stream her 15-second videos together.) There is a ton of time and work that is cut out of the edited videos and sneak peeks of celebrities lives that we don't get to see, Silver Screen Salon promises to make sure all the steps are followed so that the outcome remains just as jaw dropping!
Factors to consider on your journey from Brunette to Blonde:

Blonde never means just Blonde
Going "blonde" is a very broad term. Before you walk into your salon really understand what "Blonde" you would eventually like to be. Make sure the Blonde color you have chosen works with your eyes, your skin tone, and even your personality. Once you've figured out what "blonde" you want to bring examples! Examples and visuals are the only true way for you and your colorist to truly be on the same page of what you are envisioning in your head, after all even the best stylist can very rarely read minds!


Realize that your Brunette to Blonde journey is just that, a journey
Every head of hair is different but for the most part going from a true brunette to a blonde bombshell is never going to be an overnight process. There are factors to consider when figuring out how long the process could take such as the health of your hair and the tone you are trying to achieve and rarely does this happen over night. Most journeys can take 2-4 visits to truly start to see the results you were expecting. Like everything else in life, a great head of hair doesn't happen without following the process.
If you think you're high maintenance now, wait until you cross over to the Marilyn Monroe side of hair color
You must be both committed to the timing of becoming blonde as well as the increased maintenance cost. Even after we have achieved your perfect blonde color and goals there will be follow up appointments. Depending on your starting tone and goal color we will need to see you every 4-12 weeks for a follow-up appointment to keep you looking amazing. There are also special shampoos and conditioners that can help you maintain the tone of your hair in between appointments. They only said being blonde would be fun, nobody ever said it would be cheap!
If you have done your research and know in your heart that you truly should be rocking blonde hair then Silver Screen Salon is excited to take this journey with you. Call today to schedule your color transformation.


"Imperfection is beauty, madness is genius, and it's better to be absolutely ridiculous than absolutely boring" - Marilyn Monroe